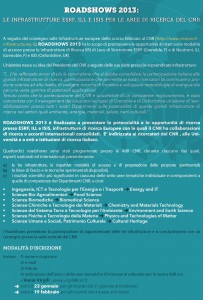 The infrastructure ESRF, ILL and ISIS for research areas of CNR

Following the conference on European Infrastructure last February to CNR, ROADSHOWS 2013 aims to promote research opportunities and how to access at the Research Infrastructures (RI) Synchrotron Light ESRF (Grenoble, F) and Neutron, ILL (Grenoble, F) and ISIS (Oxfordshire, UK). The initiative is based on an idea of ​​the President of the CNR as a result of his visits to the above infrastructure, "[…] I have strengthened even more convinced that we must consolidate the Italian participation in large research facilities, participation in which allows our researchers to continue producing high-level knowledge, to carry out frontier research and develop cutting-edge methodologies for a wide range of potential applicazioni.Tenuto account that the CNR participation is open to a consistent improvement, it has been agreed with the management of European laboratories of Grenoble and Oxfordshire action of 'awareness' at all of our departments on the potential of these large research infrastructures in areas such as environment, energy, materials, health, cultural heritage. "
ROADSHOWS 2013 is aimed at presenting the potential and opportunities for research at ESRF, ILL and ISIS, the European research infrastructures with which the CNR research collaborations and established international agreements. E 'addressed to the CNR researchers, universities and research institutions and Italian institutions.
Fourteen roadshows were planned at ADR CNR, during each of which national and international experts will present:
a) the three infrastructures, their mode of access and preparation of experimental proposals;
b) the beam lines and the available experimental techniques;
c) the most significant scientific results in each of the seven subject areas identified and corresponding to those of the CNR Departments skills, namely:
Engineering, ICT and Technology for Energy and Transport Energy and IT
Science Bio-Agri-Food Science
Biomedical Sciences – Biomedical Science
Chemistry and Technology of Materials – Chemistry and Materials Technology
Science and Technology of the Earth System for the Environment – Environment and Earth Science
Physical Sciences and Technologies of Materia- Physics and Technologies of Matter Human and Social Sciences, Cultural Heritage – Cultural Heritage
The Roadshows provide for the participation of representatives of the three infrastructure and will conclude with a conference at the headquarters of the CNR.
HOW TO REGISTER
Send:
name and surname
e-mail
institute
indication of the area of interest or to contact the thematic areas for your ADR and / or Vania Virgili: vania.virgili@cnr.it by January 23 for the meetings from January 31 to February 8, before February 19, for meetings from March 4 to March 8.
CALENDAR ROADSHOWS
31st January, Genova – AdR CNR, Sala Leonardo, via De Marini 16
1st February, Roma – AdR CNR, Montelibretti, Sala Conferenze – Via Salaria Km 29.300 – Monterotondo Stazione
1st February, Roma – AdR CNR, Tor Vergata, Aula Convegni – Via del Fosso del Cavaliere 100
4th February, Palermo – AdR CNR, Aula Cocchiara, via Ugo La Malfa 153
5th February, Cosenza – AdR CNR, Aula Didattica/Aula Convegni UNICAL, Edificio ex-CUD, via Cavour 4/6
6th February, Potenza – AdR CNR, Sala Conferenze, via S. Loja – Area Industriale Tito Scalo
7th February, Bari – AdR CNR, Aula Convegni, via Amendola 122/o
8th February, Napoli – AdR CNR, Sala Convegni, via Pietro Castellino 111
4th March, Pisa – AdR CNR, Sala Conferenze, via Giuseppe Moruzzi 1
4th March, Firenze – AdR CNR, Sala Toraldo Di Francia, via Madonna del Piano 10
5th March, Bologna – AdR CNR, Stanza 215 – Centro Congressi I Piano, via Piero Gobetti 101
6th March, Padova – AdR CNR, Aula Blu, Corso Stati Uniti 4
7th March, Milano – Università degli Studi di Milano Bicocca, Piazza della Scienza 3 – Sala Rodolfi del Rettorato – Edificio U6 IV Piano. Referente: Dr.ssa Domenica Ferretti, ferretti@ieni.cnr.it, sede organizzativa: Area della Ricerca CNR Milano 3 http://www.area3.mi.cnr.it/ "
8th March, Torino – AdR CNR, Sala dell'AdR, Strada delle Cacce 73