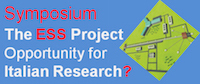 Rome, November 16th, 2010.
The ESS Project Opportunity for Italian Research
Location:
Consiglio Nazionale delle Ricerche Piazzale Aldo Moro,7 Aula Convegni, Roma
Registration is now open and logistics details are at:
http://ess-symposium.cnr.it
The Symposium brings together national with international neutron facility and instrument experts of neutron sources and national stakeholders to discuss existing neutron sources and ESS project as present and future opportunity for the Italian research. Aim is the build up of joint R&D projects and the setting up of future collaborations.
For Scientific Program and Poster sessions see: http://ess-symposium.cnr.it
If you have any questions about registration, please contact Anna Minella
email: segreteria@centronast.it
The deadline for registration is November 7th, 2010