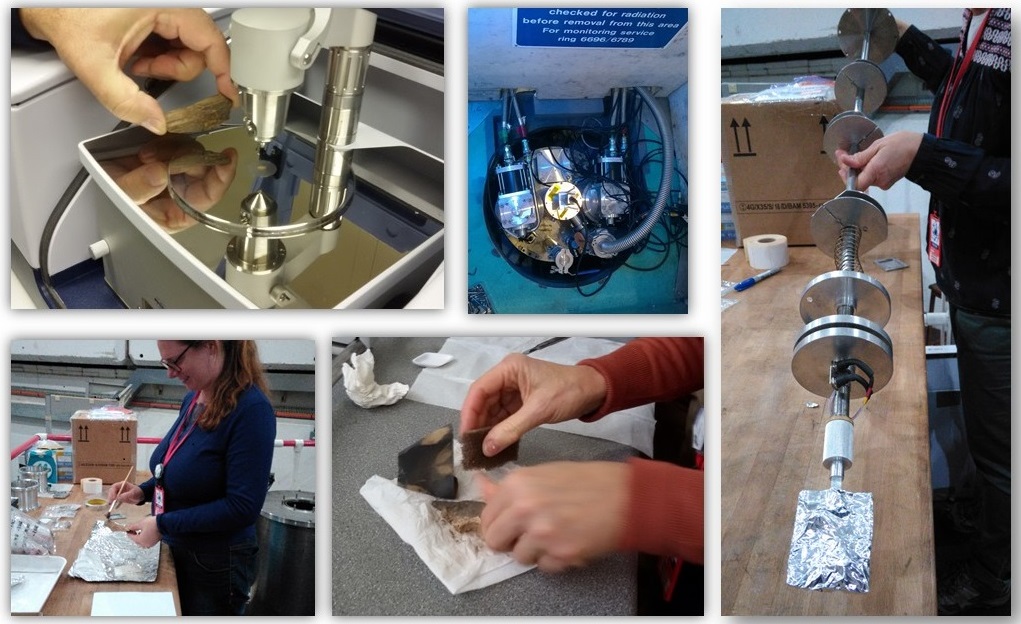 In un recente studio sperimentale su resti ossei combusti provenienti da differenti siti archeologici italiani di epoche differenti – dall'età del bronzo al medioevo – un team di ISIS@MACH ha ottenuto nuove informazioni sui processi di combustione nei reperti ossei, le pratiche funerarie, di sepoltura e di cucina di civiltà passate. La ricerca è stata effettuata sia presso ISIS@MACH sia presso ISIS pulsed neutron and muon source utilizzando lo scattering di neutroni presso la linea di fascio TOSCA.
Le ossa riscaldate subiscono cambiamenti micro e macroscopici e, a seguito della perdita della componente organica, si restringono e le loro dimensioni cambiano. Spesso le tecniche standard oggi disponibili non permettono l'identificazione e l'attribuzione sia dell'età sia del sesso.
In questo studio, pubblicato su Science Advances, ha dimostrato l'efficacia dell'utilizzo della spettroscopia vibrazionale per l'identificazione delle temperature di combustione alle quali sono stati soggetti i resti ossei. I risultati ottenuti sui reperti antichi sono stati confrontati con gli spettri vibrazionali ottenuti da ossa umane moderne soggette a combustione in condizioni controllate per l'identificazione delle specifiche condizioni di riscaldamento. Attravesro l'indagine sperimentale, tramite le temperature di combustione raggiunte, sono state identificate le pratiche funerai adottate in passato: uno scheletro di età romana ritrovato in un'antica necropoli nei pressi di Roma è risultato combusto a differenti temperature tra i 600 ○C e gli 800 ○C; questa evidenza è stata interpretata come la pratica funeraria di bustum sepulcrum per la quale il defunto veniva cremato direttamente in fossa.
Questo studio pionieristico fornisce agli archeologi e agli antropologi nuove informazioni sugli usi di antiche civiltà. Obiettivo del progetto è la realizzazione sia di esperimenti su nuovi reperti ossei e scheletrici sia di un database nel quale raccolgliere i risultati di tutti gli esperimenti, in modo tale da poter raccogliere e collegare i diversi bio-marcatori identificati in resti combusti in relazione a specifiche temperature e condizioni ambientali di combustione.
Istituzioni coinvolte: ISIS@MACH, ISIS pulsed neutron and muon source (UK), Università di Coimbra (Portogallo).
Link all'articolo: https://advances.sciencemag.org/content/5/6/eaaw1292
ISIS@MACH
https://twitter.com/UTORV
https://www.facebook.com/unitorvergata/
https://twitter.com/centronast
ISIS pulsed neutron and muon source (UK)
Twitter: @STFC_Matters, @RutherfordApLab, @isisneutronmuon
https://www.facebook.com/RutherfordAppletonLaboratory/
https://www.instagram.com/bigscience_stfc/?hl=en
https://www.linkedin.com/company/stfc
Università di Coimbra
https://www.facebook.com/univdecoimbra/